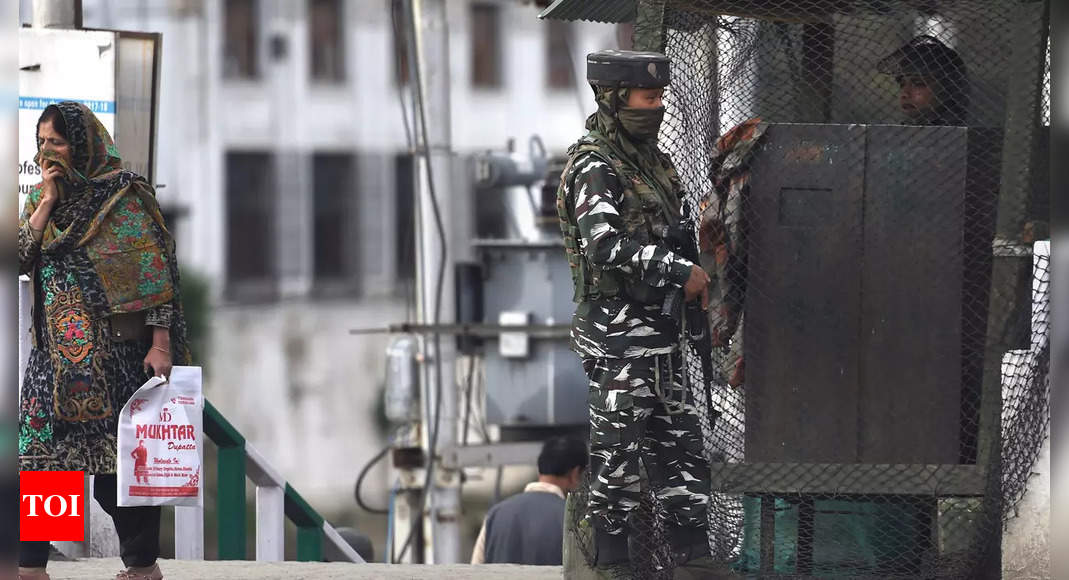 NEW DELHI: The recent killing of civilians in Kashmir has raised fears among security agencies and refreshed memories of the Valley's bloody past.
This year, 29 civilians have been killed in terrorist attacks, several of them in the past few weeks.
Overall, 1,185 people died in the Valley in 2021 due to terrorism, of which 14 were terrorists.
Violence has escalated as Pakistani-based terrorist groups such as Jaish-e-Muhammad and Lashkar-e-Taiba have stepped up infiltration activities along the Line of Control.
Resistance Front and Section 370 links
The LeT, a shadow group called The Resistance Front or TRF, has claimed responsibility for the attack.
Lashkar planned that the responsibility for terrorist activities would be assumed by the TRF in a pseudo-abbreviated form, in order to maintain reasonable denial and avoid law enforcement agencies.
Following the repeal of Article0, LeT handlers at the border planned to float the TRF using its cadres and other terrorist groups.
There were plans to increase terrorism-related activities in response to the August 2019 change.
According to J&K police sources, the TRF is just a smoking screen made by LeT to maintain denial and carry out terrorist attacks on J&K as tribal work.
NIA officials have also confirmed the matter.
Officials from the National Investigation Agency said, "The TRF, a branch of the LeT, has ostensibly created Pakistan to portray terrorist groups in Kashmir as indigenous. The group has been receiving regular support from neighboring countries." (NIA).
Moreover, it is also linked to Pakistan's efforts to avoid the 'blacklisting' of the Financial Action Task Force (FATF).
An organization of Kashmiri scholars said last week that targeted killings of minorities in Jammu and Kashmir were part of a terrorist plan to prevent them from returning to the valley.
Bloody past
The latest violence began on October 2 when a temple in Anantnag was desecrated.
On October 5, Makhan Lal Bindru, owner of a pharmacy, was shot dead in his shop in Srinagar, and two days later, a Sikh female principal and a Kashmiri Pandit teacher were killed inside the school premises.
These incidents not only frightened the minorities, but also revived the memories of the 1990s when hundreds of Hindus were killed by terrorists and thousands of families fled the then state.
Coincidentally, the incidence has increased since the Taliban seized power in Afghanistan, although a clear link is not certain.
The Valley saw its bloody years when the Taliban were last in power.
Since the Taliban's capture of Kabul on August 15, India has consistently expressed concern about the possible spread of terrorist activity from Afghanistan to other countries in the region.
.

Read More World News

Keep Reading Latest Breaking News

Source link