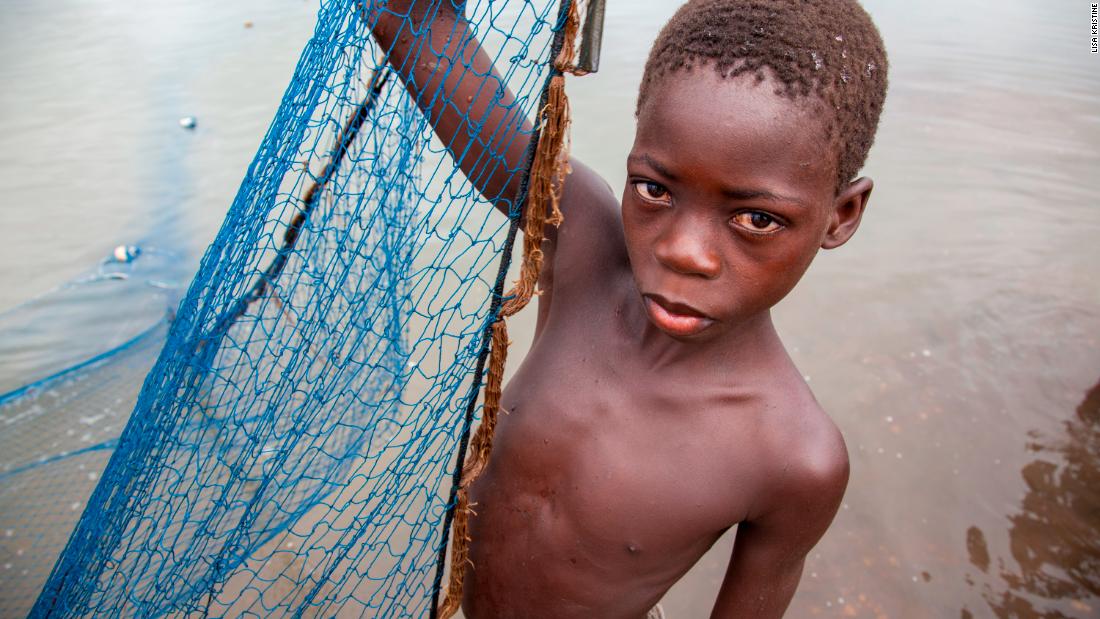 My comments about him have received a strong response from my translator. It was not a family trip; These were the teenagers of slavery and the charges on the eve of the Dark Work Day in the East Lake after their young church made me brief. As a photographer who has traveled to nearly one and a half hundred countries, often to document forced labor and human trafficking in dangerous situations, I thought I was quite fully aware of the social and human horrors of modern slavery.
Unlike a few of my other expeditions, there was nothing secret about it. I did not rush to the Nepalese brick kiln to document the workers with hundreds of bricks on my head to melt the heat to more than 100 degrees. Or go 200 feet down into a rich man's abandoned mine pit to take photos of pink gold miners. No, here in Lake Volta, the largest artificial lake in the world, child slavery was a direct sight. Nothing to hide: Five-year-olds just before me were forced to work 18 hours a day in dangerous, dirty, unpaid, often with little or no food. Mere shamelessness stunned me.
According to the non-profit organization Free the Slaves, more than one-third of the 1,620 households surveyed in the vicinity of Volta Lake have detained child trafficking or slave-like victims. Yet this is not an ancient, bounded tradition in the area: Lake Volta was created only in 1919 when it was flooded during the construction of a hydroelectric dam to supply electricity to Ghana.
These children are often trafficked from all over Ghana. Traffickers cunningly drive vulnerable families who do not adequately feed their children twice a day. They falsely promise education for a child if a young man comes to help in the home of a trafficking "relative" in another city. Once outside the villages the children are sold. Other traffickers buy babies from their poor parents or trade them for farm animals.
Read: Child slaves risk their lives in Volta, Lake Ghana
Kids are valued for their small and nimble fingers, able to loosen and fix nets. Boys are often beaten and girls are at high risk of sexual abuse. In addition to breaking the labor nets and nets backwards, they are forced to do the most dangerous work: jump overboard over the parasitic infested water to free the fish nets from the nets on the branches of the submerged trees.
Kids are not taught how to swim; Many of them have drowned. I remember a boy, probably eight years old, his whole body became awesome as soon as our boat got into the lake. He was afraid that the waves would knock him off the boat, or worse, we would take him somewhere farther away. In my time at Volta Lake, I have never met a single child – not one – I don't know another one who drowned.
In 2021, nominated by the United Nations for the International Year of Child Labor, it is time to rededicate ourselves to raising awareness of exploitative child labor practices. Reviewing the images of Volta Lake's enslaved children, I think that the International Labor Organization estimates that 20,000 children from the Volta region and surrounding fishing communities live and work in slavery. Ignoring this horror is not acceptable to close our eyes. Child labor is dangerous, illegal and yet widespread around the world.
The Covid-1p epidemic and the past year of the Black Lives Matter movement have drawn widespread attention to the inequality of racial and social justice, not just in America, but around the world. The devastation of the epidemic made clear how devastating unequal access to education, healthcare, housing and useful employment was, and often with dire consequences for the poor and disadvantaged everywhere.
Although progress has been made over the past decade showing a 38% reduction in child labor, a new ILO report lists the growth of 8.4 million children in the last four years, bringing the global number of child labor to 160 million. It does not take into account the risk of a few million more due to the effects of Covid-19.
On a positive note, this has further increased the awareness of shared humanity that transcends the divisions of division, humanity, class and geography. If we work together to demand change, we can create and change laws to improve the world and rethink policies and practices.
If we hold a divisive, "us vs." mentality, we can become miserable for others – homeless people are trapped on the sidewalk, restricted or voluntarily ignorant in their fight to feed their families without any income, or kids freezing water on Volta Lake at 1am Pulling a net weighing several hundred pounds.
I offer my photographs to document this harsh reality as a way to help others see our shared humanity. Look into the eyes of these enslaved children. Maybe that forces someone to donate funds; Pressuring their governments to engage in fair trade, to vote in favor of child labor regulation laws, to pressure big business and government agencies around the world to implement improved labor practices – perhaps registering Volta Lake boats and licensing fishermen. This is how slave workers will be released and protected, how children will return to school. This is the time to take action and talk, to take action.
.

Read More World News

Keep Reading Latest Breaking News

Source link