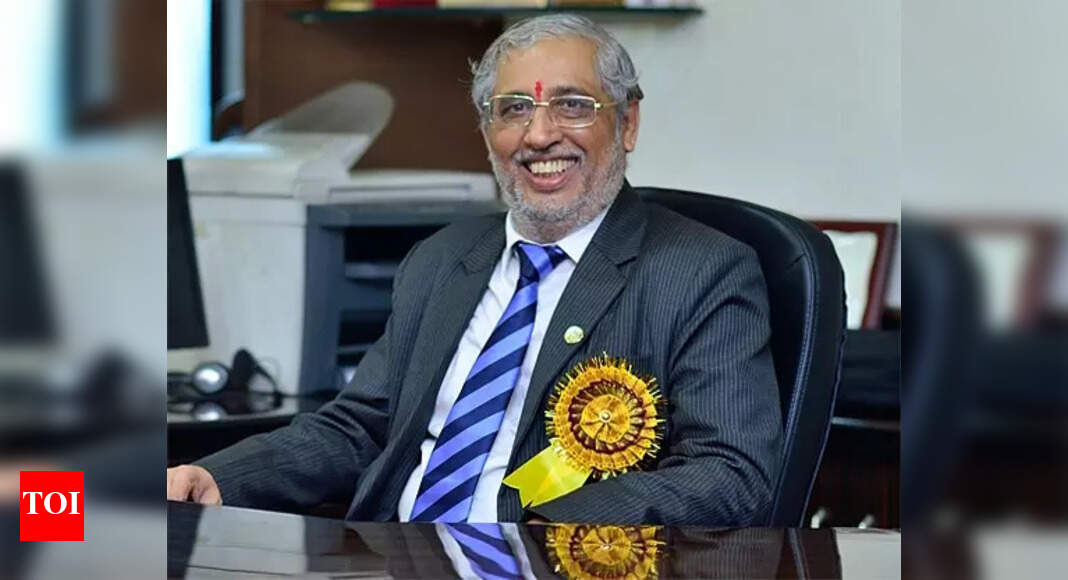 New Delhi: India will not see any new engineering colleges till 2024, All India Council for Technical Education (AICTE) chairman Anil Dattatraya told Sahasrabudhe.
For its teacher training program, AICTE has been entered in the Guinness Book of World Records, the first organization in the country to be included in the Guinness Book of World Records for the second time in a row.
Dr. Sahasrabudhe shared some important inputs during an interview with IANS. Excerpt from the interview:
Congratulations!
You have successfully cast your vote
Q: When will the new engineering college be launched in the country?


A: There is no need for a new engineering college at present. Therefore, no new engineering college will be opened till 2024.
The expert committee, in their interim recommendation, advised not to open any new engineering college for two years. In fact, there is no need to open a college … and the committee has just made this recommendation.
Q: Why is there no need for a new engineering college? What is the status of existing colleges?


Answer: So far more than 50 percent of the seats in the colleges are vacant, which means that the resources are not being fully utilized … that is why it is not right to invest in a new engineering college.
Given the current situation, only half of the existing colleges are required. Even if the existing engineering colleges are halved, the students will get admission.
Q: What is the problem if more seats are available?


Answer: Having more seats than required means less revenue from student fees. It will also affect the resources of the institution, which in turn affects the recruitment of faculty.
With less revenue, less qualified teachers need to be hired so that they can work for lower pay and this will ultimately affect the quality of education …
In view of these, the expert committee has suggested not to open a new engineering college till 2024.
However, there may be exceptions, which must be seen.
Q: According to the new education policy, there is a provision to provide technical education from school level, what is AICTE doing about it?


Answer: We are providing vocational education to the children from 6th class. It will be widely implemented. Curriculum has been developed for this and teachers are being trained.
Under this, students will be taught ambitious courses like computer as well as artificial intelligence in the school itself.
Apart from this, training will be given for skills in agriculture, forest, water, handicrafts and other subjects.
Q: What kind of effort has AICTE got its name in the Guinness Book of World Records?


A: The name AICTE has been entered in the Guinness Book of World Records for our teacher training program – Atal Academy. The faculty members employed in it work tirelessly to enhance the skills of the teachers.
During rigorous training, teachers are required to study, create assignments and pass with flying colors, after which they are awarded certificates.
During Corona's time, 1.5 million teachers were trained in one year and that is why our name was registered in the Guinness Book of World Records.



Q: What steps are being taken to firmly implement the new education policy (NEP) in the country?

Answer: NEP is being implemented at many levels.
The implementation of the policy is being monitored continuously and vigorously, as various universities have been asked to implement choice-based loans.
Universities have been asked to pass the policy at their Academic Council meetings.
Soon, this policy will be implemented in all universities across the country, under which children will have the freedom to study the subject of their choice.
If the students of an engineering college are interested in music, the college will arrange for a music teacher to train them … this is a choice-based credit system.
!function(f,b,e,v,n,t,s)
{if(f.fbq)return;n=f.fbq=function(){n.callMethod?
n.callMethod.apply(n,arguments):n.queue.push(arguments)};
if(!f._fbq)f._fbq=n;n.push=n;n.loaded=!0;n.version='2.0′;
n.queue=[];t=b.createElement(e);t.async=!0;
t.src=v;s=b.getElementsByTagName(e)[0];
s.parentNode.insertBefore(t,s)}(window, document,'script',
'https://connect.facebook.net/en_US/fbevents.js');
fbq('init', '2009952072561098');
fbq('track', 'PageView');
.

Source link

Read More Educational News

Keep Reading Latest Breaking News