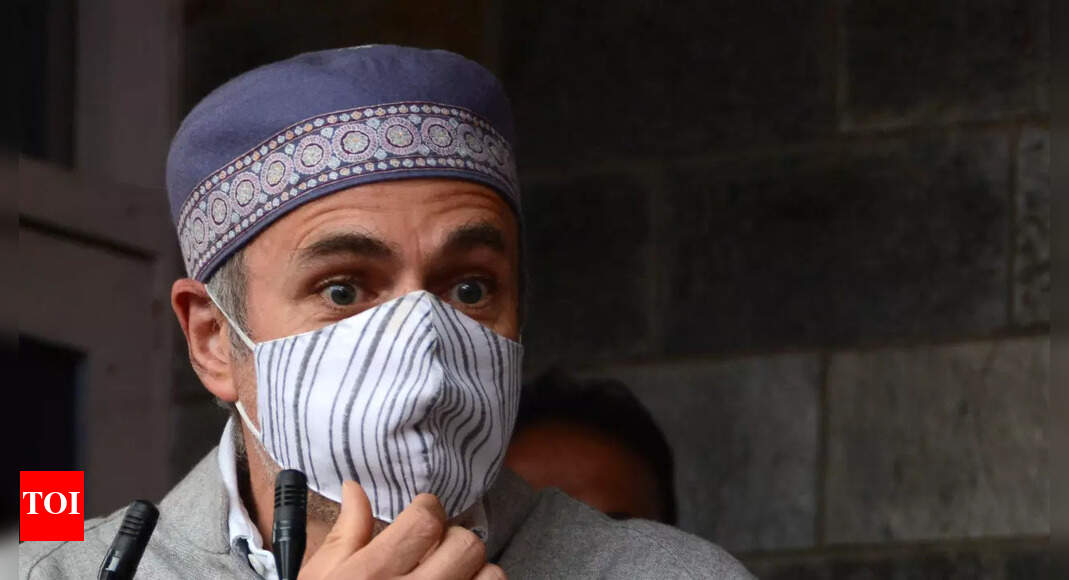 Srinagar: National Conference (NC) co-president Omar Abdullah on Friday accused the Jammu and Kashmir administration of targeting the Gujjar and Bakarwal tribes at the behest of its political masters.
The former chief minister's remarks came after the Jammu Development Authority (JDA) recently demolished community houses as part of an anti-occupation drive.
Omar tweeted, "The government has been elected in its campaign of destruction, targeting only the Gujjar Bakarwal family in Jammu. The presence of this family has always annoyed the BJP and it is clear that the administration is targeting Gujjar and Bakarwal at the behest of their political masters."
Meanwhile, Hasnain Masudi, an NC MP from Anantnag in south Kashmir, condemned the "selective" destruction of Scheduled Tribe houses in Roop Nagar and other parts of Jammu by the JDA and the administration, leaving countless families, including women and children, homeless in other parts of Jammu. Severe winter.
"The demolition campaign has apparently been carried out for decades without regard to the rights of occupants of residential areas and other violations of the law," Masudi said in a statement.
The NC MP said it was shocking that the party in power at the Center was proud to regularize 1,731 illegal settlements in Delhi under PM-Uday by 2020 and claimed to have set up an efficient and hassle-free system to provide thousands of ownership papers. Among the beneficiaries, the Jammu and Kashmir administration "directs electoral destruction in the case of ST population of Jammu and Kashmir".
In Delhi, the DDA and other authorities show no initiative to recover crores of rupees worth of land from the occupiers and to regularize their occupation and give them ownership rights, but when it comes to Jammu and Kashmir, the JDA is proud to recover. He said land worth crores of rupees stood at the end of Qatar for various reasons at the cost of human life from deprived sections of society.
Masudi said that on the one hand, Prime Minister Narendra Modi is calling for housing and affordable housing for all by 2024 as his dream project, but on the other hand, the JDA is busy making the poorest homeless with a roof over their heads.
"The administration of Jammu and Kashmir in general and the JDA officials in particular seem to have a misconception that our system of governance is dictatorship run by the will of one or more individuals and has no role to play in the rule of law and they are free. It is a constitutional obligation to protect social justice, "he said.
He sought the immediate intervention of Lieutenant Governor Manoj Sinha in the matter and demanded rehabilitation of the affected families, restoration of their places of residence and compensation to the victims without any delay.
He demanded regularization of all such colonies in Jammu, Kashmir and Ladakh just as such colonies have been regularized in Delhi and other parts of the country.
!function(f,b,e,v,n,t,s) {if(f.fbq)return;n=f.fbq=function(){n.callMethod? n.callMethod.apply(n,arguments):n.queue.push(arguments)}; if(!f._fbq)f._fbq=n;n.push=n;n.loaded=!0;n.version='2.0′; n.queue=[];t=b.createElement(e);t.async=!0; t.src=v;s=b.getElementsByTagName(e)[0]; s.parentNode.insertBefore(t,s)}(window, document,'script', 'https://connect.facebook.net/en_US/fbevents.js'); fbq('init', '593671331875494'); fbq('track', 'PageView'); .

Read More World News

Keep Reading Latest Breaking News

Source link