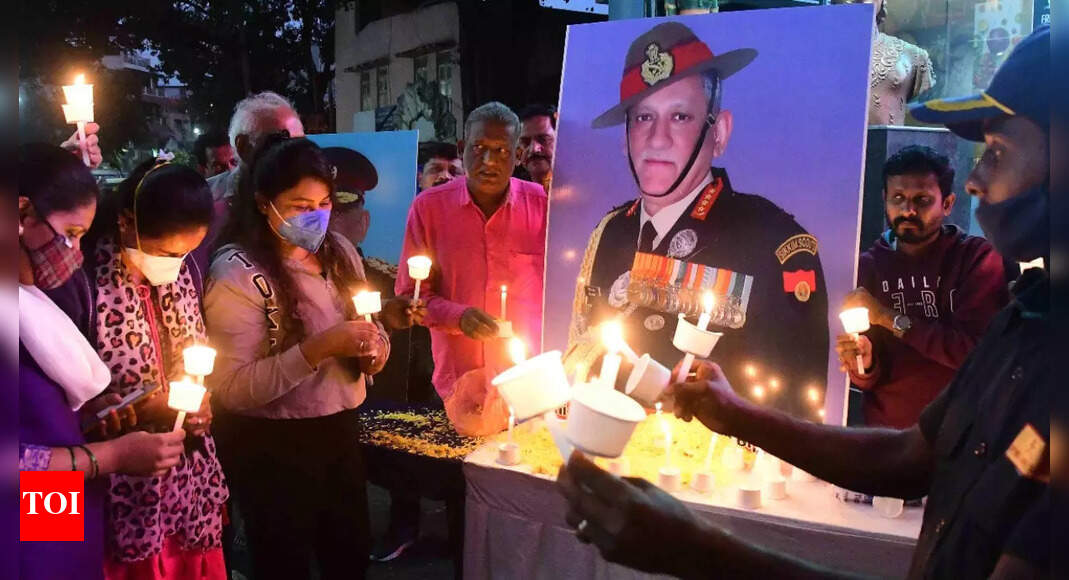 NEW DELHI: MI-17V5 pilots "spatial confusion" after entering the cloud cover due to sudden bad weather led to a helicopter crash that killed Chief of Defense Staff General Bipin Rawat, his wife and 12 others last month, the IAF said on Friday.
The Tri-Service Court of Inquiry, headed by Air Marshal Manabendra Singh, on December 8 denied "mechanical failure, sabotage or negligence" as the cause of the twin-engine MI-17V5 helicopter crash near Kunur, Tamil Nadu. With the first official statement about the crash, which confirmed what TOI had reported earlier, the IAF said that "preliminary results" were submitted after analyzing the CoI flight data recorder and cockpit voice recorder (collectively called black-box) and questioning everyone. Gave. Witnesses were found to determine the most probable cause of the accident.
"The accident was caused by an unexpected change in the weather conditions in the valley. The crash was caused by a spatial disturbance of the pilot which resulted in a terrestrial controlled flight (CFIT). Based on its findings, the CoI has made some recommendations which are being reviewed," the IAF said.
An accident occurs when a pilot loses situational awareness and inadvertently hits an obstacle – land, mountain, tree or part of the water – despite having full control of his helicopter or aircraft, he is called a CFIT, as previously reported by TOI.
!function(f,b,e,v,n,t,s) {if(f.fbq)return;n=f.fbq=function(){n.callMethod? n.callMethod.apply(n,arguments):n.queue.push(arguments)}; if(!f._fbq)f._fbq=n;n.push=n;n.loaded=!0;n.version='2.0′; n.queue=[];t=b.createElement(e);t.async=!0; t.src=v;s=b.getElementsByTagName(e)[0]; s.parentNode.insertBefore(t,s)}(window, document,'script', 'https://connect.facebook.net/en_US/fbevents.js'); fbq('init', '593671331875494'); fbq('track', 'PageView'); .

Read More World News

Keep Reading Latest Breaking News

Source link