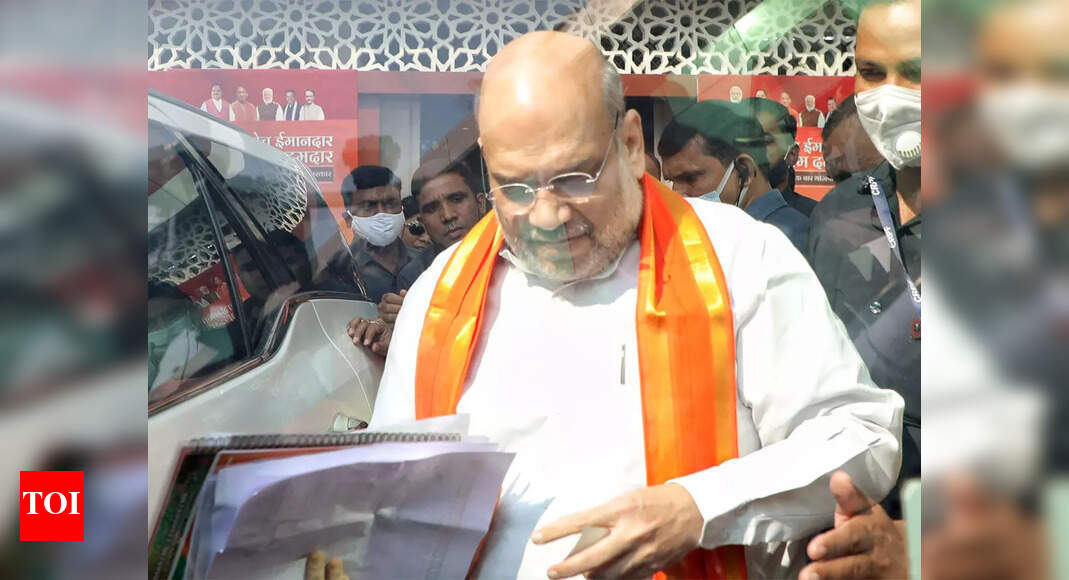 Varanasi: Hindi is the friend of all indigenous languages ​​and India's prosperity lies in the prosperity of all its languages, Union Home Minister Amit Shah said on Saturday.
Speaking at the All India Official Language Conference here, Shah further said that a country which cannot preserve its language, culture and biological thought cannot preserve it.
Congratulations!
You have successfully cast your vote
Thus, he said, it is very important for everyone to preserve and nurture all the languages ​​of India. "Hindi is the friend of all indigenous languages ​​(Swabhasa). The prosperity of India lies in the prosperity of our Indian language," he said.
The Home Minister said that some children who could not speak English had a feeling of inferiority.
Shah said it was his firm belief that the time was not far away when those who could not speak their mother tongue would feel inferior.
The Home Minister said that once the people of the country make a decision and its languages ​​become the language of governance, India will automatically regain the knowledge of Maharshi Patanjali and Panini.
He said that during the British rule, the youth should be freed from inferiority complex.
"We need to create an environment where people are proud to speak their mother tongue," he said.
The Home Minister further said that there was an attempt to create a lot of controversy surrounding the Hindi language but that time is now over.
Shah said that Indian language conversation and development is a central pillar of the national education policy and the curriculum of engineering and medical courses has so far been translated into eight Indian languages.
"Today I am very proud to say that not a single file of the Union Home Ministry has been written in English. We have fully adopted the official language (Hindi)," he said.
Referring to Hindi as 'sakhi' (friend) in all indigenous languages, he emphasized that there could be no 'contradiction' (difference) between friends.
"There is no difference between Hindi and our indigenous languages. Hindi cannot be the difference between friends and acquaintances of all indigenous languages," he reiterated.
"This is a year of taking a promise for Hindi lovers that as we complete 100 years of independence, the indigenous language and the official language (official language) will become so strong that we will not need the help of foreign languages," he said.
Shah further said that Hindi has been unable to achieve its full development and destination status in an independent India.
He said that this work should have been done immediately after independence.
"There are three pillars of independence – 'swaraj' (self-government), 'swadeshi' (use of indigenous products) and 'swabhasa' (indigenous language). We have got 'swaraj', but 'swadeshi' and 'swabhasha' have lagged behind," Did.
Shah said that although Prime Minister Narendra Modi has taken steps to ensure the growth of 'Swadeshi', 'Swabhasha' has lagged behind.
"For the first time, Prime Minister Narendra Modi has spoken of Swadeshi through Make in India. One of our purposes, which is to leave, is 'self-language'. We must remember it and make it a part of our lives, "he said.
Shah also praised Prime Minister Modi for promoting Hindi all over the world.
"No other Prime Minister has received so much global acclaim as Narendra Modi. He has raised India's vision for the world in Rajbhasha (Hindi) and enhanced the pride of Rajbhasha," he said.
!function(f,b,e,v,n,t,s)
{if(f.fbq)return;n=f.fbq=function(){n.callMethod?
n.callMethod.apply(n,arguments):n.queue.push(arguments)};
if(!f._fbq)f._fbq=n;n.push=n;n.loaded=!0;n.version='2.0′;
n.queue=[];t=b.createElement(e);t.async=!0;
t.src=v;s=b.getElementsByTagName(e)[0];
s.parentNode.insertBefore(t,s)}(window, document,'script',
'https://connect.facebook.net/en_US/fbevents.js');
fbq('init', '2009952072561098');
fbq('track', 'PageView');
.

Source link

Read More Educational News

Keep Reading Latest Breaking News