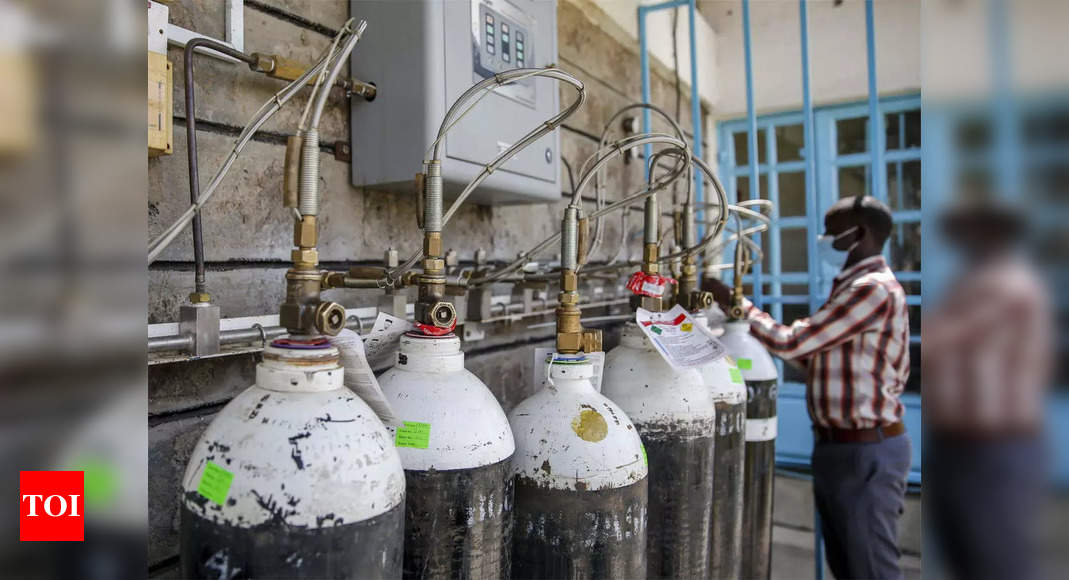 NEW DELHI: Underlining the challenge posed by the growing Kovid-19 case across the country centered on Omicron, the Center on Friday stressed that ensuring all oxygen equipment is the primary responsibility of the states. Health facilities are examined and kept in a functional condition to deal with any emergency.
Union Health Secretary Rajesh Bhushan presided over a high-level meeting with representatives of the states and union territories via a video-conference on Friday to review the state of readiness of the entire spectrum of ventilator, PSA and oxygen plant, oxygen concentration and co-oxygen equipment. Oxygen cylinders for timely and effective management of the Kovid-19 epidemic, according to a statement issued by the Ministry of Health.
States are urged to ensure full and optimal utilization of ECRP-II funds through daily reviews and upload expenditures to the dedicated NHM-PMS portal so that they are eligible for further funding to strengthen sub-par healthcare facilities. At the district level.
Under ECRP-II, funding is also provided for installation of Liquid Medical Oxygen (LMO) tanks and Medical Gas Pipeline System (MGPS). States must implement these facilities and obtain approval from the Petroleum and Explosives Protection Agency (PESO) for LMO tanks, the statement said.
Bhushan called on the states to launch PSA plants on a war footing from the state funds and CSR funds.
States were requested to ensure that a mock drill of the PSA plant was performed to ensure adequate purity of oxygen flow to the patient's bed and compliance with the proposed outlet pressure without any leakage.
Also, the flow meters must be in working condition, they were told. States were also urged to monitor the setting up of PSA plants in private and medical college hospitals.
The Union Health Secretary stressed that states must ensure that distributed ventilators are quickly installed and introduced in designated area health facilities, the statement said.
To address the large gap between delivery and number of ventilators installed, they were urged to expedite the issuance of hospitalized referrals for additional ventilators and the issuance of final acceptance certificates for installed ventilators.
States were further reminded to expedite the process of finalizing maintenance agreements with manufacturers. The online complaint management system, which was launched on August 30 last year, also suggested filing a complaint regarding a ventilator, the statement said.
It was mentioned that the Union Ministry of Health has started the National Oxygen Stewardship Program from 22nd December. States need to ensure that technical training of operators is completed.
More than 1,600 candidates have participated in the training program across 738 districts. An online PSA training program is also being conducted by the Directorate General of Training (DGT) through 24 regional centers across the country.
States were also urged to ensure adequate buffer stocks of drugs and to update buffer stock details of government hospitals and medical colleges in the Drugs and Vaccines Distribution Management System (DVDMS) portal.
The State and Union Territories did not freeze their buffer requirement of drugs on the DVDMS portal, requested for timely updates, with details of available stock and purchase orders, the statement said.
!function(f,b,e,v,n,t,s) {if(f.fbq)return;n=f.fbq=function(){n.callMethod? n.callMethod.apply(n,arguments):n.queue.push(arguments)}; if(!f._fbq)f._fbq=n;n.push=n;n.loaded=!0;n.version='2.0′; n.queue=[];t=b.createElement(e);t.async=!0; t.src=v;s=b.getElementsByTagName(e)[0]; s.parentNode.insertBefore(t,s)}(window, document,'script', 'https://connect.facebook.net/en_US/fbevents.js'); fbq('init', '593671331875494'); fbq('track', 'PageView'); .

Read More World News

Keep Reading Latest Breaking News

Source link