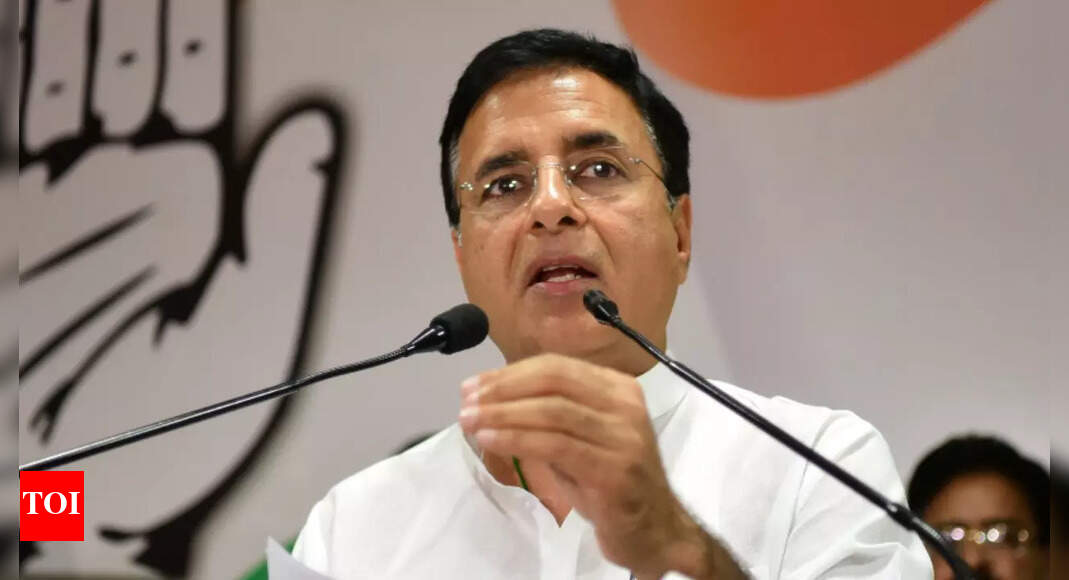 New Delhi: The Congress on Saturday slammed the Modi government for raising the Goods and Services Tax (GST) in various sectors from footwear to food supplies and called on voters to defeat the BJP in the forthcoming Assembly elections to control inflation.
Speaking at a press conference here, Congress spokesperson Randeep Singh Surjewala said the Center had reduced excise duty on petrol and diesel after the BJP's defeat in the by-elections in Himachal Pradesh and several other states and called on voters to exercise their voting right. .
Surjewala sought credit from Congress for the GST Council's decision to delay the GST hike in textiles from five per cent to 12 per cent and demanded that the tax be increased once the five state elections are over.
"One has to keep in mind that the proposal to increase GST on textiles has not been withdrawn, only postponed. The decision may be postponed for another month till the election is over. Once the election is over, the tax will be increased," he said.
The congressional spokesman added that renting shoes, taxis and auto-rickshaws using the Ride-Hailing app, ordering food using the Food Delivery app, drawing kits for children and withdrawing cash from ATMs has become more expensive since January 1 due to tax increases.
Surjewala said prices of tea, pulses, edible oil, cooking gas and even salt have gone up since Prime Minister Narendra Modi came to power in 2014.
"Remember, if there is Modi, there will be price rise, Modi government means high prices. Modi and inflation are bad for the country," Surjewala said, urging voters to defeat the BJP in the next elections.
He said the government was raising taxes before presenting the budget and could later claim to have introduced a "tax-free budget".
!function(f,b,e,v,n,t,s) {if(f.fbq)return;n=f.fbq=function(){n.callMethod? n.callMethod.apply(n,arguments):n.queue.push(arguments)}; if(!f._fbq)f._fbq=n;n.push=n;n.loaded=!0;n.version='2.0′; n.queue=[];t=b.createElement(e);t.async=!0; t.src=v;s=b.getElementsByTagName(e)[0]; s.parentNode.insertBefore(t,s)}(window, document,'script', 'https://connect.facebook.net/en_US/fbevents.js'); fbq('init', '593671331875494'); fbq('track', 'PageView'); .

Read More World News

Keep Reading Latest Breaking News

Source link