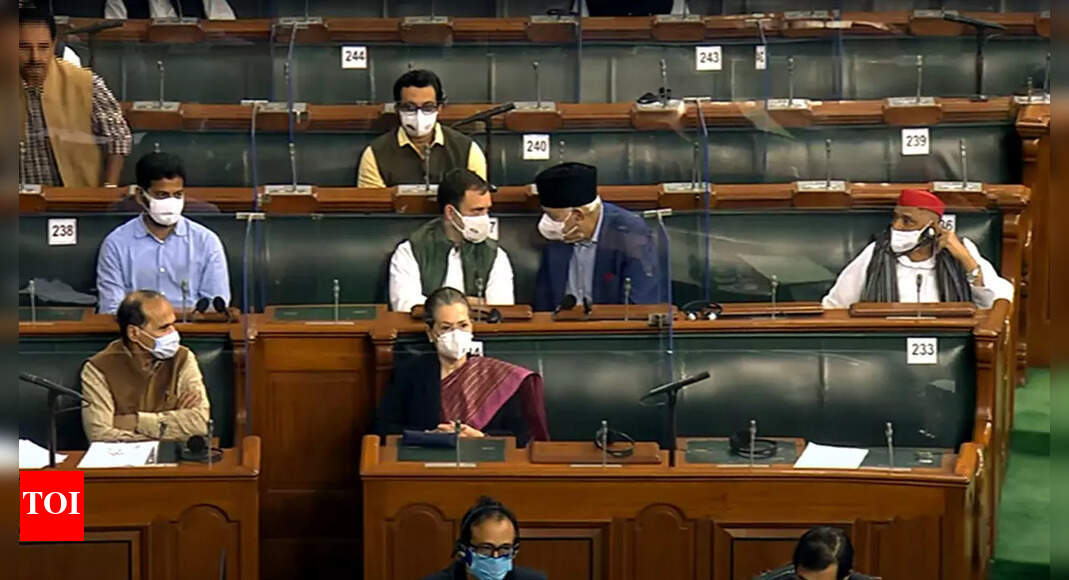 NEW DELHI: With two confirmed cases of the new Corona variant Omicron reported in India, the Lok Sabha on Thursday began debating the country's cowardly situation, with most speakers suggesting the twist should not lower the country's guard.
BJP's Ratan Lal Kataria said that a new variant has emerged, more caution is needed and all protocols need to be followed properly. "This is not the time to sit back, we have to be careful," Kataria advised.
Initiating the debate, Shiv Sena leader Binayak Raut lamented that Parliament was discussing the issue 21 months after the outbreak and at a time when cases were declining.
Referring to the Omicron variant, he demanded closer coordination between the state government and the Center. While criticizing the Centre's recent decision on epidemic management and investment, he did support the sale of Air India to the Tata group. Raut has accused the Center of allocating doses of the vaccine to BJP-ruled states in excess and at the expense of others. "So far, only 38% of the population has received both doses of the vaccine. We cannot start premature celebration for 100 crore doses, "Raut said.
BJD MP Vratrihari Mahtab praised the government's handling of the epidemic, saying the country had received worldwide acclaim for its vaccination campaign and the Quinn app. He said that even European countries have appreciated the way the country has responded.
Rita Bahuguna of the BJP said that the country was badly damaged during the two waves of the Corona outbreak when Prime Minister Narendra Modi acted as a true leader and empowered the country to fight any future health crisis.
Accusing Rahul Gandhi of creating hesitation in the country about the vaccine, BJP MP Tejaswi Surya asked the Congress leader to explain why he did not share the details of his vaccination. "He didn't even tweet to tell people to go get vaccinated," Surya said.
Congressman Gaurav Gogoi has accused the government of ignoring various warnings led to a lack of beds, oxygen and ventilators during the second wave.
TMC MP Kakli Ghosh Dastidar suggested that the government would consider bringing back Indian medical services so that trained manpower could be provided to provide timely medical services.
!function(f,b,e,v,n,t,s) {if(f.fbq)return;n=f.fbq=function(){n.callMethod? n.callMethod.apply(n,arguments):n.queue.push(arguments)}; if(!f._fbq)f._fbq=n;n.push=n;n.loaded=!0;n.version='2.0′; n.queue=[];t=b.createElement(e);t.async=!0; t.src=v;s=b.getElementsByTagName(e)[0]; s.parentNode.insertBefore(t,s)}(window, document,'script', 'https://connect.facebook.net/en_US/fbevents.js'); fbq('init', '593671331875494'); fbq('track', 'PageView'); .

Read More World News

Keep Reading Latest Breaking News

Source link