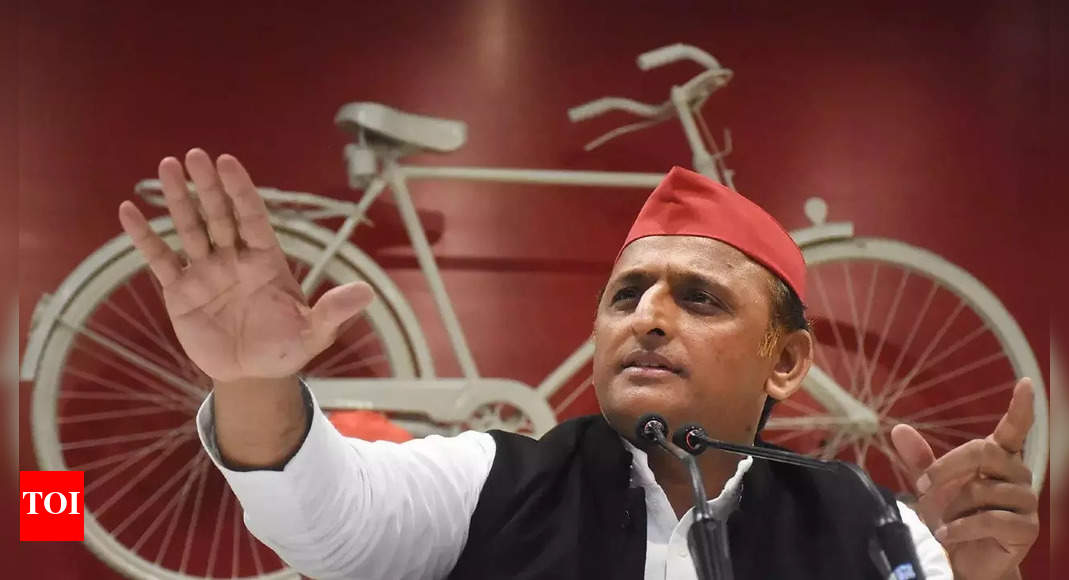 LUCKNOW: Samajwadi Party president Akhilesh Yadav on Monday said he would ensure a minimum support price for all crops for farmers if his party came to power.
He said he would create a revolving fund to ensure adequate arrangements for ensuring free irrigation, loans, pensions and insurance for farmers as well as payment of sugarcane arrears. He further said that he would withdraw all the cases filed against the farmers and pay Rs 25 lakh to the families of those who died during the agitation.
Yadav said that all these socialist manifestos would be included which would be published after the BJP released its manifesto.
Farmer leader Tajinder Virk, who was among the injured in the October 3, 2021 Lakhimpur incident, made a promise with a handful of wheat and rice to defeat 'those who persecuted the farmers'.
Comparing the Lakhimpur incident to the Jallianwala Bagh massacre, Akhilesh Yadav said that by killing innocent farmers, the BJP had committed an unforgivable crime.
He said that it was the unity of the farmers that compelled the BJP to repeal the agriculture law.
The SP president further said that the BJP and its leaders were openly violating the code of conduct. He said he would soon lodge a formal complaint with the Election Commission and hoped they would act accordingly.
Asked about the failure of alliance talks with Bhim Sena chief Chandra Shekhar, Akhilesh Yadav said he had offered two seats but did not know why it was rejected.
"Chandra Shekhar should know that Dr. Ambedkar and Dr. Lohia worked together and he too should work with us and as brothers in a positive way," he said.
!function(f,b,e,v,n,t,s) {if(f.fbq)return;n=f.fbq=function(){n.callMethod? n.callMethod.apply(n,arguments):n.queue.push(arguments)}; if(!f._fbq)f._fbq=n;n.push=n;n.loaded=!0;n.version='2.0′; n.queue=[];t=b.createElement(e);t.async=!0; t.src=v;s=b.getElementsByTagName(e)[0]; s.parentNode.insertBefore(t,s)}(window, document,'script', 'https://connect.facebook.net/en_US/fbevents.js'); fbq('init', '593671331875494'); fbq('track', 'PageView'); .

Read More World News

Keep Reading Latest Breaking News

Source link